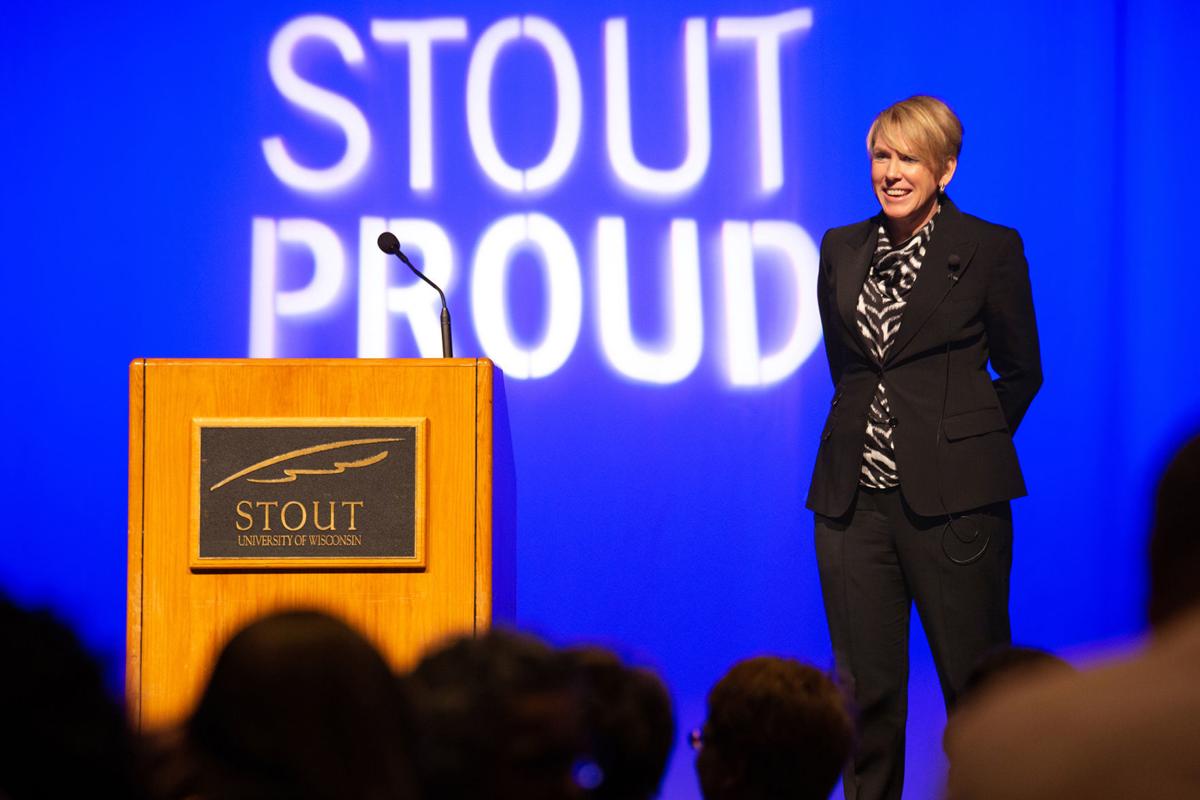 UW-Stout's next chancellor wants to continue to spread the message about the unique opportunities the university provides for students.
"I really want to be able to celebrate what's powerful about the institution, the good work they're already doing," said Katherine P. Frank, "and really think about how we communicate that most powerfully. How we get the message out about what Stout is doing and how Stout is a unique institution among polytechnics.
"It truly has its own space in that sector and I think we can do an even better job of talking about its power and impact."
Frank, vice president of academic innovation at Central Washington University in Ellensburg, Wash., was selected as UW-Stout's eighth chancellor on Tuesday following approval by the UW System Board of Regents.
Frank will take over duties as chancellor on March 1. She is the first female to have the role.
"It's an honor to be able to make this mark as the first female chancellor, but my focus is truly on how I can be the best leader for the institution and really pull together the strengths of the campus community and the larger community to carry the work forward," Frank said.
The bond between the university and region along with the history of the UW System playing a significant part of the education of so many throughout the state made the opportunity to lead UW-Stout an intriguing option, Frank said. During her visit to Menomonie she was able to witness the deep commitment of the community to the university. There is a powerful relationship between the university and the surrounding region, she said.
"When I saw the partners, the friends, the supporters, the alums of the university come out and support the work and listen to the stories of impact — it's truly a powerful, reciprocal relationship," Frank said.
Before becoming vice president of academic innovation at Central Washington University, Frank was provost and vice president of academic and student life for three years at the school.
"Dr. Frank has demonstrated throughout her academic career that she is a strategic, dynamic leader," UW System President Ray Cross said in a news release. "She handles challenges extremely well. Her visionary perspective on the future of UW-Stout will serve the institution and the state of Wisconsin very well."
Frank was dean of the College of Arts and Sciences at North Kentucky University from 2014-2016. She previously served as dean of Humanities and Social Sciences at Indiana University East, chair of English and foreign languages at Colorado State University-Pueblo.
Frank holds a Ph.D. and M.A. in English from the University of Washington and a B.A. in English from Bates College. She will earn $260,000 as chancellor.
Frank was selected from a group of finalists that included Mark L. Biermann, provost and executive vice president for academic affairs at Valparaiso University, Christoper Grant Maples, interim president at Pacific Northwest College of Art and Jennifer E. Orlikoff, campus president at Potomac State College of West Virginia University.
"We are very excited that this collaborative effort resulted in finding such an energetic, passionate, and innovative leader," said Regent Jason R. Plante of Eau Claire, chair of the Search and Screen Committee.
Chancellor Bob Meyer announced his retirement in March after serving five years as chancellor and 32 total years at the university. Patrick Guilfoile was interim chancellor after Meyer left in August.
Prior to becoming interim chancellor, Guilfoile served as provost and vice chancellor for academic affairs since July 2015. During the university's Opening Day activities on Aug. 26, Guilfoile announced to faculty and staff that he would be retiring in 2020 and would not be a candidate for the chancellor position.
Be the first to know
Get local news delivered to your inbox!