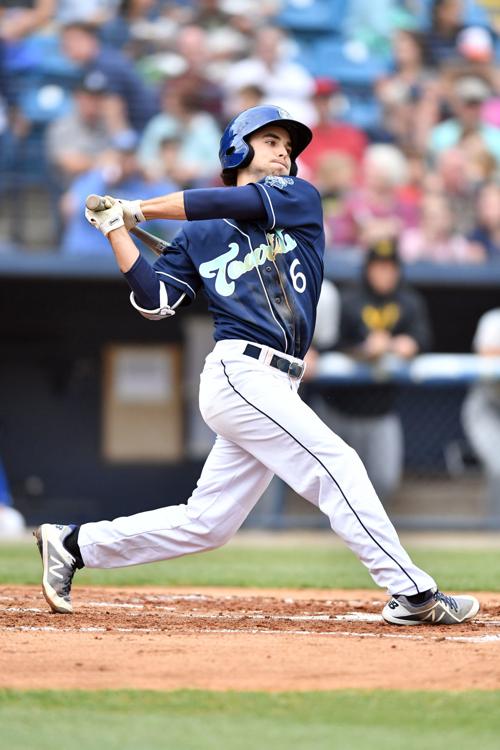 Terrin Vavra wasn't surprised.
But he was still disappointed.
The Menomonie native and Colorado Rockies minor leaguer found out on Tuesday afternoon there would be no minor league baseball season as it was announced the 2020 season had been canceled due to the ongoing COVID-19 pandemic.
"These are unprecedented times for our country and our organization as this is the first time in our history that we've had a summer without Minor League Baseball played," Minor League Baseball president and CEO Pat O'Conner said in a statement. "While this is a sad day for many, this announcement removes the uncertainty surrounding the 2020 season and allows our teams to begin planning for an exciting 2021 season of affordable family entertainment."
Vavra had heard rumblings the season would be canceled but wanted to wait until he heard the news for sure.
"It's kind of a bummer," Vavra said. "It's something we kind of expected for a while and were told to anticipate so it wasn't out of nowhere but its official, it's definitely a bummer."
Spring time for Joe, Tanner, Trey and Terrin Vavra is usually spent around a baseball diamond. But amid this year's COVID-19 pandemic, the family finds itself with some rare free time as the weather warms up.
A third round draft pick of the Rockies in 2018 after playing at the University Minnesota, Vavra played well in his first year and a half of professional baseball. Most recently Vavra hit .318 with an on-base percentage of .409, 10 home runs, 52 runs batted in and 79 runs scored while swiping 18 bases in 102 games for the Class-A Asheville Tourists of the South Atlantic League. Vavra is ranked fifth in the organization's prospect rankings by MLB Pipeline while playing both second base and shortstop thus far in the minors.
Terrin was in minor league camp with the Rockies in Arizona when the pandemic started to grow onto the nationwide conscience. He returned to the Chippewa Valley and has been working out at Triple Threat Training in Downsville — a baseball and softball training facility owned by brothers Tanner, Trey and Terrin — ever since.
"I haven't stopped working out since I got back," Terrin said.
Vavra is aiming to stay ready and in playing shape for whatever is next. The 23-year old infielder was not added to Colorado's initial 60-man 'Summer Camp' return roster, but could be as the season goes on. Minor league players do have the option to possibly play independent league baseball with permission from the organization, but Vavra said his plans are to stay training and prepared with the focus on whatever the next step is for him with the Rockies.
The son of Chi-Hi graduate and Detroit Tigers hitting coach Joe Vavra, Terrin hit .302 with an on-base percentage close to .400 in his first experience in the minors with the Boise Hawks of the short-season Class-A Northwest League in 2018. Older brothers Tanner and Trey also had accomplished high school and collegiate careers before being drafted by and playing in the Minnesota Twins organization. Tanner and Trey were set to start their first seasons together as full time assistant coaches at St. Thomas University before the spring season was canceled.
The Vavra family's passion for baseball remains as strong as ever as it starts another year on the diamond. Joe heads to Florida to start his first season as the hitting coach for the Detroit Tigers, Tanner and Trey are teaming up on the coaching staff at the University of St. Thomas and Terrin starts his second full season in the minor leagues for the Colorado Rockies.
In the mean time, Terrin knows he has a place to stay in shape and stay ready.
"It definitely has been huge for me personally to have something to really continue to work and get better," Terrin said of training at Triple Threat. "There's a lot of people who don't have that opportunity and I'm fortunate to have that so I'm trying to make the most of it and really take advantage of it because I shouldn't have any sort of excuse not to be ready to go because I have some pretty awesome tools at my disposal."
Like many people, Terrin's immediate future is full of uncertainty. But he's keeping focused on what he can do to get better while he awaits his next move.
"I think we're all in the same spot of uncertainty and that's a lot of Americans right now and people around the world are in that time of uncertainty," Terrin said. "Whether it's being furloughed from a job or being laid off from a job that they've had for a while. Now they're unemployed looking for help and it's a time where it's tough to find a job. Everyone's in the same boat and we've all got to be understanding of this and stay safe and not get frustrated.
"Do what we can to be ready for that next opportunity – whether that's for baseball players or anyone else in the working field."
Be the first to know
Get local news delivered to your inbox!