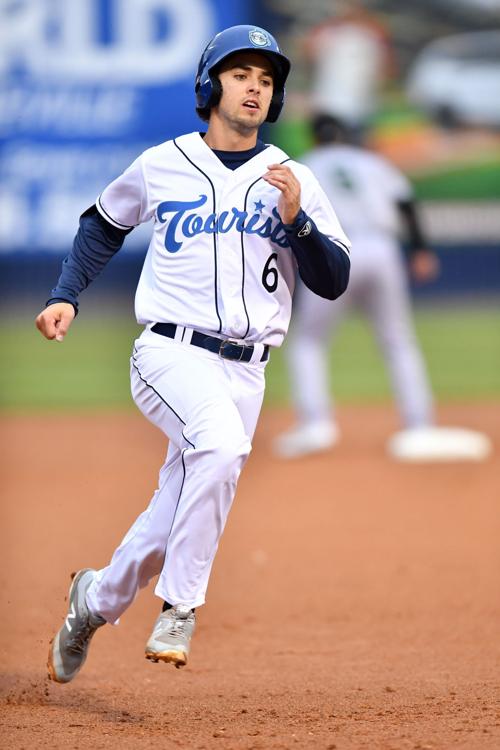 Terrin Vavra was caught off guard.
But he's excited for the newest opportunity that has been presented to him.
The Menomonie grad Vavra was a part of a four-player trade on Sunday as the Colorado Rockies dealt the infielder along with fellow infielder Tyler Nevin and a player to be named later to the Baltimore Orioles in exchange for relief pitcher Mychal Givens.
"I was just as surprised as anyone else," Vavra said of the deal. "I found out Sunday. I got a call from the Rockies just telling me I've been dealt and from there I talked with the Orioles (and) I'm excited to be a part of their organization now."
Vavra spoke with Orioles general manager Mike Elias and both parties were pleased they were able to come together.
"He just told me they were looking for some middle infield help and they were really excited when they were able to get me involved in the trade. The feeling is mutual," Vavra said of his conversation with Elias. "I'm just excited for the opportunity. I think they are excited for the opportunity as well as myself being really fortunate and grateful to the opportunity with them."
The former University of Minnesota standout Vavra was working out at Triple Threat Training, a baseball and softball training facility in Downsville owned by he and his brothers Trey and Tanner. The 2020 minor league baseball season was canceled earlier this year due to the ongoing COVID-19 pandemic.
"I've been working hard and staying ready because you never know when something like this happens and you never want to be unprepared and fortunately for me, I've been working hard and I've been ready for the opportunity to go and be a part of their 60-man roster," Vavra said.
The 23-year-old Vavra has excelled early in his pro career, most recently hitting .318 with a .409 on-base percentage, 10 home runs and 52 runs batted in last year with the Class-A Asheville Tourists. Vavra was selected in the third round of the 2018 MLB June Amateur Draft and was ranked seventh in the Rockies minor league player rankings per MLB Pipeline.
The Vavra family isn't used to free time in the spring.
"Vavra's natural feel to hit stands out more than anything else," said MLB Pipeline's scouting report of Vavra. "He works counts and knows the strike zone extremely well, walking as much as he struck out in 2019. The switch-hitter manipulates the bat head and doesn't get fooled, consistently squaring up the baseball and sending line drives to all fields, with more power coming from the left side of the plate so far."
Vavra's news is the latest in what has been a busy summer for area baseball players. River Falls graduate J.P. Feyereisen made the opening day roster for the Milwaukee Brewers and has spent time pitching out of their bullpen this season while Chippewa Falls McDonell graduate Kyle Cody was called up to the Texas Rangers recently and has not allowed a run in his first 4.1 innings out of the bullpen covering three appearances entering Monday. Marshfield native and former Eau Claire Express standout Daulton Varsho was called up by the Arizona Diamondbacks earlier this summer and the catcher/outfielder has played in 15 contests entering Monday. Vavra also joins the American League where his father Joe is the hitting coach for the Detroit Tigers as a part of Ron Gardenhire's staff.
The Vavra family's passion for baseball remains as strong as ever as it starts another year on the diamond. Joe heads to Florida to start his first season as the hitting coach for the Detroit Tigers, Tanner and Trey are teaming up on the coaching staff at the University of St. Thomas and Terrin starts his second full season in the minor leagues for the Colorado Rockies.
Vavra will join Baltimore's alternate training site squad later this week in Bowie, Maryland and be part of the team's 60-man roster and is eager to meet his new teammates and get to work.
"I'm very grateful for the Rockies giving me the opportunity to pursue my dream of being a Major League Baseball player and unfortunately I wasn't able to achieve that with them but I think it's all for the best and I'm excited to continue to work towards that with the Orioles and couldn't be more excited," Vavra said.
Be the first to know
Get local news delivered to your inbox!